Read more
about us
---
Casa Moda is a wholly owned Filipino garment business specializing in the design and manufacturing of wedding attires & wardrobe for special occasions, providing diverse and comprehensive range of products and services.
With youthful vigor and innovative style, since 2009 Casa Moda by Mich Viray has established a stable business that judiciously utilizes all its resources to the full satisfaction of its clients.
The experience and creativity of its team coupled with the skill competence and discipline of its workforce to ensure that all its projects convey the utmost customer satisfaction through responsive, advanced products and quality service. These services are delivered through a highly efficient organizational structure and administration procedures.
---
---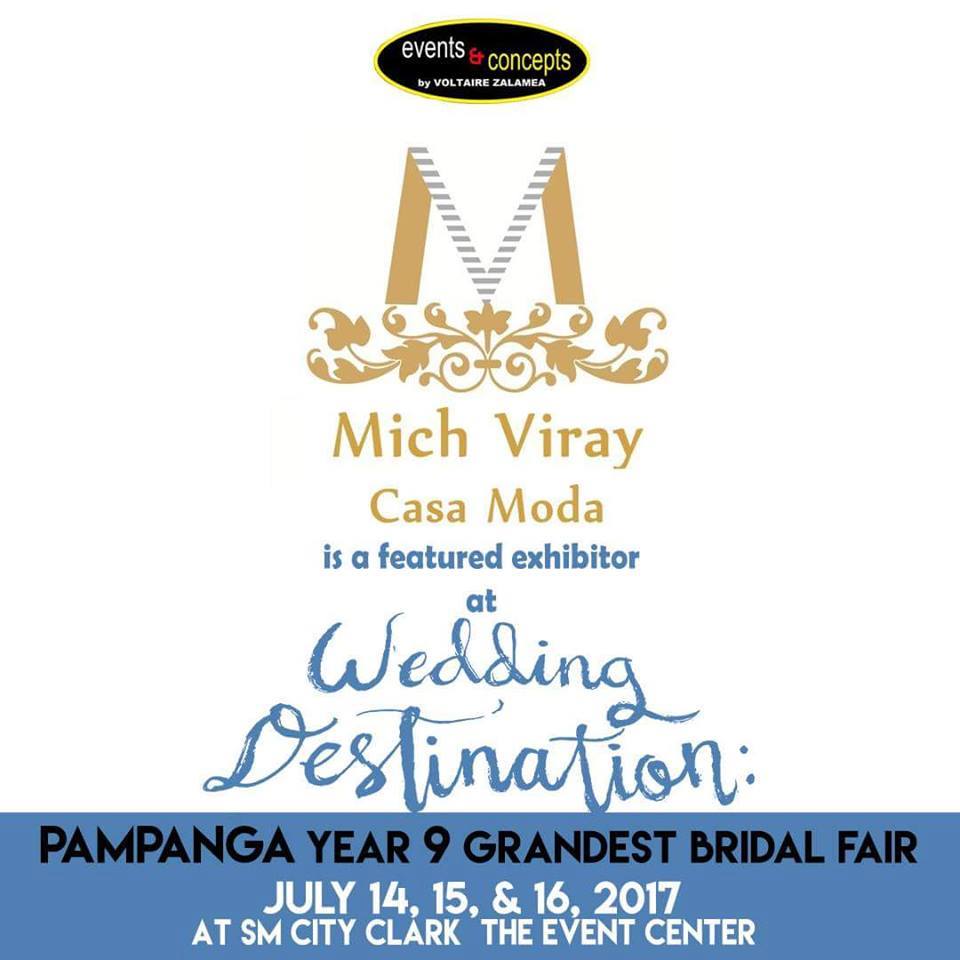 See you at the Grandest Bridal Fair in Central Luzon: Pampanga Wedding Destination Year 9 to be held on July 14, 15 and 16, 2017 at The Event Center SM City Clark.
Freebies/Discounts awaits you there!!!
Proud mvbride here! Thank you Mich Viray I will forever treasure the feeling I had while wearing your beautiful creation.

Thank you Casa de Moda by Mich Viray for making this gorgeous dress! It was everything I had hoped for in a vintage style dress! Thank you also to Senses Salon for getting me glammed up for my fist ever Wedding Ninang duty! See you in December!

Hi mga tengs. Good evening. Zeb and I just want to thank the whole casa moda team po and ms. Mitch. The best po talaga kayo. Zeb, me and my family really really love your team! Kung 100 times po kaming ikakasal, 100 times din na kayo po pipiliin naming. Very professional, very maalaga, sobrang sweet and super ganda ng mga gowns. Ang dami pong nag comment na ang ganda ganda daw po ng mga suot naming. Salamat po and we love you po.

I realy love it. . the gowns so beautiful and elegant

How I wish I could wear one of your gowns(wedding gowns). really beyond beautiful.. #ILovedit!!

Thank you so much @mich_viray Casa de Moda, VPLAZA TEAM—The amazing people who refuse to perform mediocre efforts and never cease to make others feel confidently beautiful.

I just felt like a princess with my PERFECT wedding gown. It was really beautiful Ms. Mich Viray. Thank you so much for your patience mam. You're so kind.

Thank you po for my gown, Kevin's suit and my parents' attire during our wedding day Ms. Mich Viray You and your team made us look our best! More power and God bless!

Thank u so much for making my gown so fabulous! Love it.

Thank you so much Mich Viray for the beautiful gowns & suits, to your team for the assistance.. – chrisnei

mga ates thank you so much from the beautiful gowns of flower girls to groomsmen and ofcourse my wedding gown. My 3 looked gown was beyond my expectation thank you ladies for making my bridal gown so beautiful and perfect everyone loves it three looks pa un ah. thank you for working extended hours and puyat just to make it perfect!! the professionalism of team and everyone was so helpful esp on the day u made our day so easy and seamless as well. thank you so much.

Mich Viray of Casa Moda and her team are very reliable & accommodating.

Casa Moda - brilliant designs with brilliant people

Will always be here for u guys, specially you - ate mich. And i always believe in ur group's hardwork, manpower and teamwork.. I was a witness to all of that. Trials will always come, but dont let trials control you and let u down. Keep the spirit! Love u ate mich!! Proud of you.

Mich and her team made all my entourage's evening gowns and barong tagalog in only 2weeks and this was 3years ago. And now she's one of the best in Pampanga. I'm so proud of how far she've come and achieved but stayed humble. Well, bottom line, I love Mich and her team. When in need of beautiful dresses Casa Moda is great. They have one of the best customer service I know. That's why we are getting Mich Viray again to work on my daughter's wedding. We're so happy with their service.

You will be more blessed because you kept your composure and remained professional regarding the matter Sis Mich Viray n Casa Moda.. You are being bashed because you are 1 of the Best Designer in Pampanga already.   Focus on striving for a more better service, producing lovely designs and making people contented & satisfied with your creation and forget about the negative…

Mich Viray is the most genuine person I have ever met.... Her only intention is for the bride and groom to be happy and satisfied... She is truly an amazing person inside and out.... The Casa Moda  team are all nice and accommodating to everything we needed.... and the most important thing is you will have fun working with them because they don't intimidate you and they make sure you are well served when you are with them... I have ABSOLUTELY no hesitation of recommending them to anyone.... It was a privileged for me and my partner to work with them... Our GOWN and SUIT were EXCEPTIONAL... They are very professional indeed... Thank you so much with all our heart... Goodluck and keep making a bride and groom's DREAM Wedding… HappyAndSatisfiedClients…  Love u and your Team